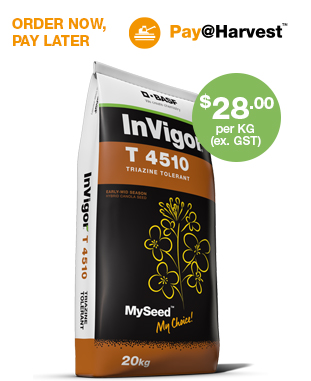 InVigor® T 4510 offers growers solid and dependable performance across a range of growing environments and has been doing so since it was first trialed in 2013. That's why it's one of the most popular TT hybrid varieties on the market.

The sensational results produced in the 2016 NVTs and solid results again in 2017, confirms InVigor® T 4510 as a new benchmark for early-mid TT hybrids. For growers retaining open pollinated varieties, it's time to consider the switch to InVigor® T 4510 to reap all it's benefits – namely, solid results in an average season and great results in a good one.

So why choose InVigor® T 4510?
Higher yields and gross margins than other well-established TT hybrids.
Great financial returns when compared to farmer-retained TTs (+$223/Ha vs Bonito**).
It delivers – offering good results in a dry finish and top end potential in a good season.
InVigor® T 4510 – reliable performance time and time again, in both low and medium rainfall areas.
**2016 data from all 26 NVT sites where all 3 varieties were grown. Bonito = $7/kg + $5/t EPR; InVigor® T 4510 = $26.5/kg. Seeding rates: Bonito = 3 kg/ha; InVigor® T 4510 = 2.5 kg/ha. Seeding, fertiliser, chemical and harvest costs were considered equal and therefore excluded.